March 30, 2017
Washington Gold Rush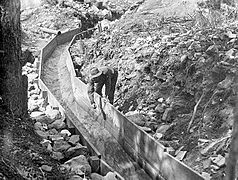 Let us make one thing clear first: the only significant gold rush in Washington took place in 1873 when gold was found in Swauk Creek in the middle of the state. There had been prior reports of gold discoveries, but the gold deposit in Swauk Creek was the one that really caused interest in gold mining in the state. It was a gold rush, but in a much lower scale compared to the one that occurred during the California gold rush. Among the first prospectors during Washington Gold Rush were local farmers who lived nearby Kittitas Valley. As the word spread, more people from all around flocked to the area as well.
The Washington Gold Rush did not last long since early prospectors basically depleted the gold resources in the state by early 1880's. It was followed by a shift of interest as most miners turned into lode production instead of gold. Early prospectors abandoned the worked out area, but this allowed Chinese miners to try their lucks in the same ground. Working conditions in China at that time were harsh, so even less productive ground was good enough. In 1892, a post office was established and the mining area changed its name to Liberty. Even in this less-than-ideal ground, mining activities continued for many generations. Unlike in many other mining camps where unruly behaviors were common, Liberty was much more conducive hence improved living conditions.
In modern days, there are very few (if any) commercial gold mining operations in Washington. Gold prospecting is now a recreational activity and the government actually allows for open recreational gold panning as well. The Washington State Department of Natural Resources provides a gold map to show where gold deposits have been found; however, not all areas are open for recreational panning. Unless withdrawn, only the areas/federal lands managed by the U.S. Bureau of Land Management and U.S. Forest Service are open for gold panning and prospecting.
Recreational gold prospecting and mining requires no permit from DNR, but it does not mean you can trespass on closed properties as you like. Get a gold claim map.Make sure you ask permissions and use only simple tools (it is best to avoid anything with a motor).
Learning about the brief period of the Washington Gold Rush can be quite fun as you get different experiences from the usual California-style. One of the most important things to remember is that the stream bed is not just the place that holds gold, but is also a place to enjoy outdoor adventures and interact with many kinds of animals. Try to minimize disturbance to the ecosystem by limiting your work area. Chances are small that you will find any gold, but the activities can be a good learning experience and exciting outdoor adventure at the same time.