March 30, 2017
Utah Gold Rush History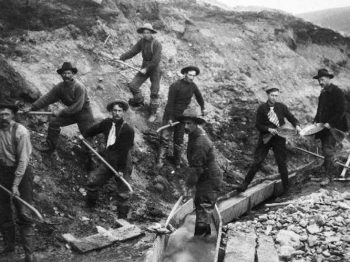 Among many other states in the country, the Utah Gold Rush is a little bit peculiar. Most gold found in the state so far is not from actual gold mines, but as a byproduct of zinc, copper, lead, and silver mining. Most of the gold discovered in Utah today is a byproduct of the Bingham Canyon copper mine located southwest of Salt Lake City. In 2013 alone, the mine produced more than 192,000 troy ounces (almost 6,000 kg) of gold. Over its operational years, Bingham Canyon has produced over 23 million ounces (more than 652 US tons) of gold. This makes Utah one of the most productive gold sources in the country; that is not bad considering that the mine was intended to dig out another type of metal. The last major gold mine operated in Utah was the Barneys Canyon in Salt Lake City; it stopped production in 2001, but currently is still recovering gold from its heap leaching pads.
Nobody expected there was going to be a Utah Gold Rush, but the aforementioned statistics suggested that the state actually hid plenty of gold under its soil. Despite the large amount of gold (as byproduct), most gold prospecting activities in Utah have only yielded small amount of discoveries. The gold was so very fine that it never quite attracted many people to do more explorations. Creeks and rivers have gold, but the metal is very fine too, so extra care when panning in required. Some potential areas to find gold in the state are as follows:
Colorado River (probably also very fine gold)
Green River especially below the Flaming George Reservoir
Creeks draining the Henry Mountains
San Juan River
Johnson and Recapture Creeks
One of the biggest concerns with gold prospecting is the lack of water; it could also be the main reason that Utah Gold Rush never really happened. While the state has large amount of other minerals and metals, chances of gold recovery are small. However, gold prospecting in modern days may reveal many other deposits with better improved equipment such as metal detector. Another concern is that the gold is usually very fine. Capturing gold takes extra care or the gold will just be lost in the process.
For those who are interested in gold prospecting, Utah offers abundance of gold claim free public land open for recreational gold panning. There is no permit required as long as you use non-motorized methods such as dry-washing and panning. It takes a lot of effort to find gold in Utah indeed, but that should not stop the adventurous from trying.