March 24, 2017
South Dakota Gold Rush History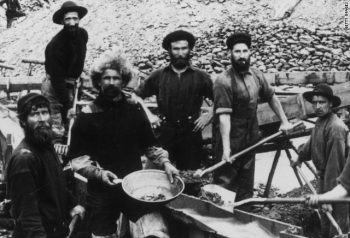 Currently the only active gold mine in South Dakota is the Wharf Mine, but it does not change the fact that the state has a rich history of gold discovery. The South Dakota Gold Rush was a real thing, and actually many prospectors are still lurking around and hope to get their hands on some of the precious yellow.
The South Dakota gold rush started in 1874 after an initial discovery at French Creek. It was a group of men led by General Armstrong Custer who announced the discovery of gold in the Black Hills (an area near present-day Custer). Back then the area was inhabited by Sioux Indians but it did not stop people from coming to the area and trying to find fortunes from gold deposits. The Black Hills are located in Custer County, named after the general.
Although the initial discoveries yielded relatively small amounts of gold, richer deposits on Whitewood and Deadwood were found soon after that. Both locations confirmed that the Black Hills hid considerable fortunes for the taking. It was soon followed by the existence of an illegal settlement known as Deadwood; this settlement was considered one of the most dangerous in the United States at that time.
Similar to most historical events of gold discoveries throughout United States, the South Dakota Gold Rush was sprinkled with thousands of people flocking to the area. After several years, most people left and only a small percentage stayed. Homestake Mine, which was the largest and deepest gold mines in North America before it finally ended operation in 2002, was also located in this place. The mine produced about 20 million ounces of gold.
The South Dakota Gold Rush Today
Some people think the gold in South Dakota has been depleted already, but others insist that there are still fortunes to be made. One of the most popular areas for modern days' gold prospecting is the far western part of the state, particularly near the border of Custer, Pennington, and Lawrence Counties. The area has been extensively explored for more 150 years, yet some believe they can still find gold.
If for some reason you want to try gold panning in South Dakota, please remember that the creeks in the aforementioned locations have probably been claimed or are on private property. Before you rush and go gold prospecting, do some research and make sure you are not trespassing. Bring your gold map and use landmarks as guidance; if in doubt, consult the locals or law enforcement officers you meet.