March 6, 2017
Idaho Gold Rush History And Districts
In 1860 the Idaho Gold Rush began. It was all started with gold finding in Pierce, particularly at the juncture where Orofino Creek meets Canal Creek. The most popular gold-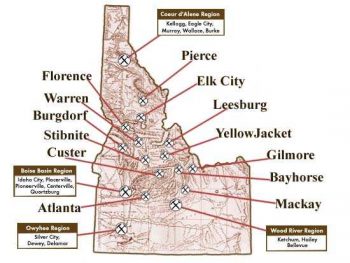 producing district in Idaho is Boise Basin County, which was discovered only two years after the Pierce event took place. It has produced nearly 3 million troy ounces (more than 90 tons) of gold mostly from placers. Besides the Boise Basin, there is also French-Creek Florence district in Idaho County which has produced about 1 million troy ounces (34 tons) of placer gold as well. The state also has The Silver City district in Owyhee County; it began producing in 1863 and has delivered more than 1 million troy ounces of gold, too. Another popular district is the Coeur d'Alene in Shoshone County; it is not as productive as the other district but still capable of producing 44,000 troy ounces of gold so far. Interestingly, the gold found in this district are mostly byproduct to silver mining.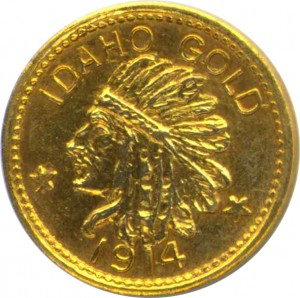 Although Boise Basin did not actually start the whole Idaho Gold Rush period, it has given the most amount of gold compared to other districts. One of the main reasons is that it is comprised of several gold mining towns including Centerville, Placerville, Idaho City, and Pioneerville. As a matter of fact, all the streams in the area have produced good amounts of gold. Within only few years after the first gold discovery in Boise Basin, the area had larger population than Portland, Oregon. The area is not known for its large gold nuggets, but only small fine picker-sized gold.
Unlike the California gold rush, you can still feel and experience Idaho Gold Rush until today as there are still active gold mines in the state. Almost all rivers and creeks in Central Idaho have some gold in them. More than half of the entire land areas of Idaho are public land managed by Bureau of Land Management and Forest Service. These areas are open for exploration and gold claims.
It is worth mentioning that gold in Idaho is found in remote areas. It means that gold prospecting in Idaho may require you to take a hike and walk through barely populated land. As long as you don't mind backcountry travelling, you may get lucky and find the precious metals with little efforts of gold panning in some rivers on your path. You may need to travel for days until you arrive at potentially productive river, so be prepared and carry your outdoor gear including spare tires, food, and maybe a tent.