April 17, 2017
Historic Oregon Gold Mines Today
Some believe that gold was discovered in Oregon back in the 1845 by travelers in their journey to Willamette Valley. Whether or not the rumor is true is still left to be proven. Assuming it was true, it did not start an immediate rush for gold mining in the state. The actual rise of Oregon gold mines started more than 15 years later. During this period, mines are spread throughout the state, but major production was best mainly from two areas:
Southwest Oregon: in the Klamath Mountains area which includes Coos, Jackson, Douglas, Josephine, and Curry counties.
Northeast Oregon: in the Blue Mountains area mostly in Grand and Baker counties.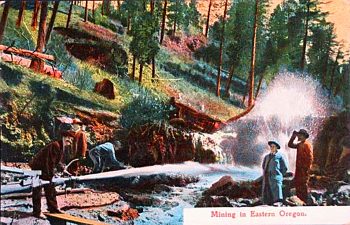 Some of the largest-producing Oregon gold mines were located in the southwest. Gold has been found in both placer and lode deposits. Modern day prospecting activities still revolve around this part of the state.
In Douglas County, there are several notable locations such as Myrtle, Quines, Last Chance, and Cow creeks. South Umpqua River and all the waters that drain into it are worth prospecting as well. Hydraulic operations, lodes, and placers have been operating in the river.
More than half a million ounces of gold have been found in Jackson County since 1852. All waters in the county have potential to produce gold including Applegate River along with several creeks such as the Sterling, Willow, Elk, and Palmer.
Similar to the creeks in Jackson County, almost all waters in the Josephine County are believed to hide good amount of gold. Illinois River and Josephine Creek are good locations to start but there are some more notable mentions such as Althouse and Galace creeks. Josephine County produced a lot of gold in the past, and maybe you can find more these days.
A series of Oregon gold mines are still active today in the John Day River located in the eastern part of Oregon. Other areas for you to check should include old mining towns for examples Susanville, Bourne, Granite, and Greenhorn. Most of the creeks throughout the John Day River will produce placer gold. If gold panning in the creeks and rivers does not interest you, Oregon offers wide area of public lands where you can use metal detectors. Both eastern and northeast parts of the state have more than enough public land for you to explore–but a gold claim map is advisable. Even the black sand deposits of Oregon beaches (primarily in the Curry and Coos Counties) will yield gold, albeit in very fine sizes.