April 4, 2017
Alaska Gold Mines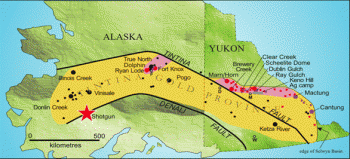 When it comes to gold mining, Alaska has always been one of the most preferable destinations in the country. The long running record gold discoveries have created seemingly endless creations of Alaska gold mines up to today. Tons after tons of gold have been found, but it seems the state has endless reserves. As a matter of fact, Alaska is getting busier these days thanks to the rising price of the shiny yellow. Mountains along with creeks and rivers, and basically the wilderness of Alaska offer plenty of opportunities to every miner. It is worth mentioning that mining regulations in Alaska are more miner-friendly compared to other states as well. In case you have not noticed, large-scale gold mining operations are slowly disappearing in many states, but that is not the case in Alaska.
Gold exploration in Alaska started in 1848 (by then Alaska was still part of the Russian Empire), but it did not produce any gold. In 1870 (the United States purchased Alaska from Russian Empire in 1867 for 7.2 million U.S dollars or approximately two cents per acre), shortly afterwards one of the first Alaska gold mines was established in placers located southeast of Juneau.
From 1880 to 2005, Alaska has produced a total of 1,250,000 kg of gold. Discoveries continued to happen, and the state yielded 12.7% of all U.S. gold productions with its 873,984 troy ounces of gold in 2015. The largest producer is Fort Knox mine, which is basically a cyanide leaching operation at a large open pit in Fairbanks mining district. Other notable Alaska gold mines include the Pogo, Kensington, and Greens Creek.
When people think of gold mining in the United States, Alaska is among the first things that come to mind. Gold is abundant, and prospectors have high hopes of finding great amounts of it. Large Alaska gold nuggets have been found and more are still lying in ground waiting to be discovered.
Despite the alluring opportunities of gold discovery, mostly serious professional miners with adequate equipment for the job have a real chance of digging out the gold. Millions of square miles are available for gold prospecting, but road access to those areas posts quite a challenge. A considerable portion of Alaska is covered with tundra; there is just too much overburden, making it less ideal for recreational prospectors. If there is a gold mining district with a good record of discovery, chances are the area is covered in gold claims.
If remote backpacking brings you excitement, you will probably fit just fine with the entire gold rush in Alaska. Remember that it may require some tough hiking just to reach your destination. The good news is the harder it is to reach your destination, the more likely you are to find gold. Pro Tip: Buy a gold claim map from a reputable dealer before you go anywhere. It's one of the most important pieces of equipment a gold miner owns.